Picasa collage maker for mac
Picasa 3 is one of the best picture collage maker on the market, especially it's freeware. After you have installed Picasa, on the first time running, it will search and sort all your pictures from your specified folders into albums. Next time when there are new photos added to those folders, they will be automatically imported to Picasa. This is very useful feature to organize a large number of digital photos.
Now, you have got photos for making a collage from free collage templates. See below about how to make a photo collage using Picasa 3. Step 4: Make settings and create collage to image file for totally free. Wondershare Video Converter Free. Easy to use but absolutely free video converter that enables you to play the right format on computer and device. Wondershare MobileGo. Product-related questions? Product About Support. BACK Multimedia. More Products. Photo Collage Freeware Review - Picasa 3 Picasa is the flashy and functional free photo management and editing software which allows you make collage from templates.
I have no interest in a cloud solution. I store all photos on multiple hard drives for redundancy, and just use Picasa to organize the pictures and generate slide shows. But if I am correct, when one needs to upgrade their laptop, then that is the end of Picasa for them. Is this correct? It depends on the level of the update. With most updates, apps will continue working. If you upgrade to a completely different version of an OS, you might have trouble, though because people are so committed to keeping Picasa around, you might also be able to find a good workaround with some searching.
Well this night went sideways This is unbelievable!! So when this computer goes, that's it, no more Picasa! Livid now!! I agree!! I just bought a new computer and am so disappointed that I can't have Picassa now! None of these options even compare, unless you want to pay for them. Why Google I will definitely stick with Picasa as long as I possibly can. I have many thousands of pictures there in years worth of albums and folders. I would PAY to keep it!
It worked so well!!!! If I ever loose all my albums, I will cancel Google from my life in every way and never use them again. What are they thinking? I have used Picasa for at least 10 years. I am at a loss that it is being phased out and I really don't like the editing component on Google. I went on line to find another editing program and ended up on MUD, which gave me great information on other programs to edit my pictures.
I love taking pictures and frequently make books on Shutterfly, upload to Facebook and share with friends. I take most of my pictures on a Nikon P40 or a Sony both really good cameras. If anyone has any suggestions about their experiences using other programs, other then Picasa, which I love, please let me know. Usually, I crop, enhance the colors and remove the red eye on my photos.
That's how basic I want my next photo program to be. Google photos does not recognize the date the picture was taken. It does not seem to read metadata. It only knows the date the picture was uploaded. Makes it very difficult to use. You need to click on the info button to see the date and time.
My husband always forgets to reset the clock in his camera when we travel between time zones. It was so easy to fix this with Picasa.
Collage maker like Picasa?.
Desktop Options?
abbyy finereader 11 mac os x.
Picasa collage maker software - ihukokitivoj.tk;
How To Make Photo Collage on Mac – 4 Best Picture Collage Maker Apps.
How to Create Photo Collages with Picasa 3.
The 10 Best Picasa Alternatives to Use Instead.
I think Flickr has the syncing hard drive and cloud option, but I believe it's for premium members only. You could use Dropbox to sync stuff, but that's not great for photos. The other option is doing everything in the cloud, but there are a number of reasons why that might not be an appealing idea! I put the "Pictures" folder and all sub-folders managed by Picasa, etc. On some devices, I sync only recent or selected folders. And, of course, I can get at any photo anywhere with a browser.
DropBox also uses your LAN where available, and it's quite fascinating to see photos appear almost instantaneously on my PC as my wife uploads her photos to her PC. And DropBox works well on my iPad -- I get thumbnails of any folder I open in a few seconds, and very fast access to any individual photo I select. Meanwhile, I did find a download of Picasa for my new laptop But the moral of all this is simple.
Google abandoned "do no evil" long ago they even used Google Alerts to distribute links to stolen documents on WikiLeaks.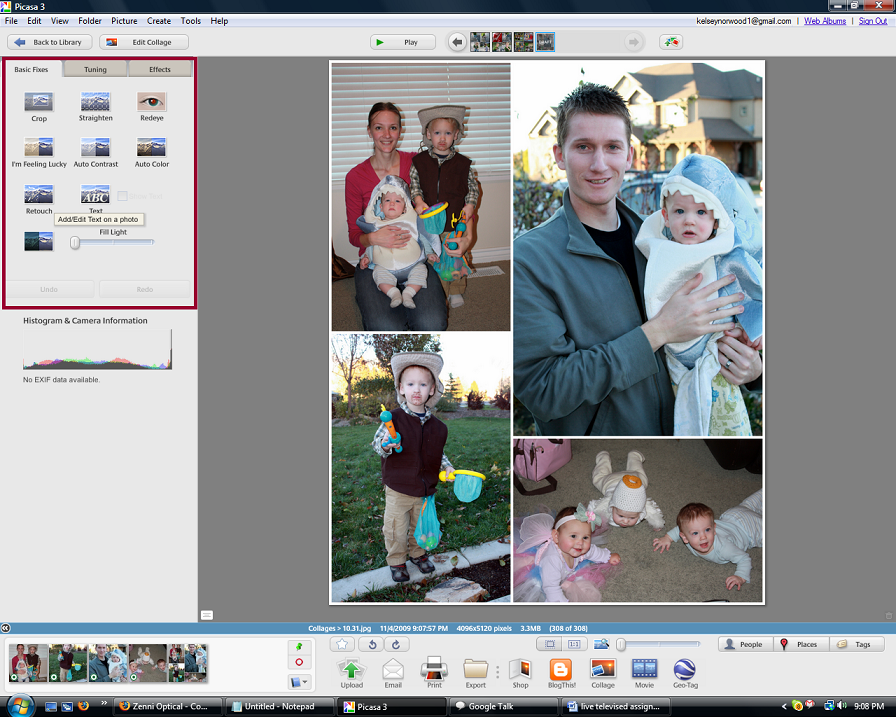 Remember, at Google YOU are the product and the company's only interest is to monetize everything it can discover about you. Act, and use any Google services and apps only in so far as you are comfortable with this. And do not expect your convenience to be a factor in whether any Google product continues to function. Sounds like Dropbox is working well for you! I'm thinking I might have to switch to that soon, as my external hard drive just isn't as convenient as using a cloud service. This decision sucks! Thanks again for your suggestion. I tried over and over again and was successful in one case with someone without a Google account.
I hope to send more albums which my friends can open without problems. Thanks, Dann Albright, for your support. I tried to make a new album with Google Photo's. No problem so far but my friends seem to need a Google account to open the album and not all of them are willing to. The information I found said that 'anyone' can open the album Anything I did wrong?
Not having used Google Photos much, I'm not sure. It wouldn't surprise me if you need a Google account to view an album, though. A huge number of people have them, so for a lot of people it wouldn't be an issue. Picasa was part of my life and every picture I took was quickly imported. Now when I try to import it just freezes on me program not responding. How did they do that to me? I have Photoshop elements and that ought to be my next choice but the first step has eluded me for well over a year now.
Many years ago I was busy using ACDsee and liked it a lot. Given a few more dollars income I may have stuck with it. I also pay Google and Amazon to store picture for me. Amazon would not help me remove unwanted files, so I moved from the free Prime tool to a pay service. Not too happy about that trick. But I do so much with Picasa and have no idea at all how to move on. Not at my age and situation. This is a really serious blow to me. I still think it's a shame that Picasa has to disappear.
I find iPhoto and Google Photo disappointing. My comfort is Photoshop Elements though I miss a few features of Picasa. I agree—really disappointed that Google decided to get rid of it. Glad you found something that's at least a decent replacement, though! PIcasa has been a great software since launched by Google years ago and I have been depending on it for downloading my photos from iPhone straight to a Windows-based computer with the ease of naming folders and files.
Besides, Google Photo has a "issue" of organizing photos based on events which might not be accurate and will requires manually sorting and opening of new folders. In that case, more time is wasted just trying to sort these photos out. In fact, I would appreciate if someone in the market to purchase Picasa as a software and redevelop it for further enhancement then just changing a new platform. Yeah, I've been interested in Google's Photos' automatic organization of photos.
It's not a terrible idea, but there's no guarantee that it's going to organize things the way you want. I'm sure a lot of people would love it if someone else bought Picasa, but I sincerely doubt that it'll be up for sale. Which is really too bad—it's a great app. Well, I think if the price is right, it could still be an possibility to it. One of the things is that once the library gets larger, it becomes uncontrollable Perhaps Apple should do it, I feel that Picasa is still much better than Photos.
That'd be awesome if Apple bought it; Photos is pretty lackluster. I like their mobile photo apps, but the Mac one just isn't that great. But I get the feeling that Google would sell Picasa to pretty much anyone before they'd sell it to Apple. I like the idea of somebody buying it, but not Apple.
Many of us use PCs and there is now way Apple would help us! OnOne Photo Suite is a good option. It's Photo browsing is second to none and lighting fast. It's photo editing ability is equal to Photoshop and easier to use. I have both and prefer OnOne. But if you get on their mailing list they will occasionally send you a deal where you can purchase it for less or get a BOGO.
Can you tell me if they have the collage option like Picasa did? I used the collages very frequently and can not seem to find one like it. As far as I can tell, On1 doesn't have the ability to automatically create collages; you'd have to do it manually. Whose to say Google won't snatch the rug out from under our feet by declaring Photos obsolete in a couple of years, changing or eliminating our favorite features or deciding some of it's now fee-based? Worse, they'll do it again in a heartbeat whenever the whim takes them, tossing a virtual mid-finger to those who disagree with them.
And, yippee, it was free! Was it as good as Photoshop? Pro photographers who had the need - and time - to endlessly play with their pics needed more, but the rest of us were perfectly happy. Another complaint about GMail is they still have only their unbelievably primitive format which gives users the choice between plain text and, if one wants to spend [a lot of] time, a hugely limited HTML version of the plain text. Thanks to Google dumping Picasa I spent a helluva lot of my valuable time this past Spring moving vast amounts of pics 'n vids to other Cloud-based storage, a bright, shiny new 3TB Toshiba storage drive and, of course, to DVD.
I think you're right to be nervous about Google getting rid of Photos after a couple years. Picasa was hugely popular, and it just doesn't make sense that they'd shut it down. It might be useful for sharing some things, but housing all of your photos with Google definitely doesn't seem like a good idea. Spot on review.
The only thing that works simple with Google is their browser. Youtube has become a joke and they are worse than facebook when it comes to spinning the average user around in circles. PS - their interfaces suck big time. That's true; why is Chrome so awesome when everything else causes such difficulties? We should demand that the Chrome team develops Google's next product. For saving me from having that exact same rant just now I like Google photos, because everything I had in Picasa is already there and all the photos I take with my camera or phone all go straight there for free cloud storage.
But only problem is I now have to search through 23, photos to find a particular one because I don't have the tagged people anymore. Yeah, the instant transfer is definitely nice, and will save a lot of people effort, as long as you're fine with Google having all of your photos on their servers. Not having the tags is rough, though. I have over GB of photos on Picasa, with odd different people identified.
These are family photos dating back to the s. I would hate to have to re-create the individual identities! It looks as if the face ID connecting to the person in a photo is unique to Picasa. Can anyone verify this? Any helpful suggestions would be gratefully received. If you come up with any other strategies, though, be sure to post them here so other people can take advantage! I also liked that it was an actual program for the computer. Do they even have anything comparable to that, instead of everything online? Depends on who you mean by "they.
If you mean someone else, well, that's what this article was about!
Online Options
Check out the recommendations above! Try out PicMonkey. It is a great editing program, but you cannot store anything there. Keep your Picassa on your desktop and continue to use it for storage, but send your pic to PicMonkey to edit and then it will send it back to Picassa automatically when you hit the save button. The basic version is free, but you can upgrade to do more sophisticated editing for a very nominal charge. Does the free editor do much more than Picasa? It sounds like a bit of a hassle for not a whole lot of gain. PicMonkey is waaaayyyy better than Picasa.
The drawback is that it does not store anything. After you edit your picture, you have to send it back to your computer or to Picasa or any other photo storage program you are using. PicMonkey does everything Picasa does and more for free, but it also does airbrushing, wrinkle removing, teeth brightening, eye brightening, eye liner, blush, mascara, whiskers, you can make yourself thinner in places or give yourself breast enhancements.
You can change the color of your eyes, apply hair highlights, do all kinds of backgrounds add the beach, the rain, the snow, or bricks, etc. You have to upgrade for a nominal cost to do some of the more complicated applications, but none of it is difficult to use. Just log onto PicMonkey. No downloads or costs for basic editing. All I use Picasa for now is storage and printing. So it sounds like PicMonkey is a solid editor, but if it doesn't offer storage and organization, I think it's a hard sell that it does "everything Picasa does and more for free.
It does sound like a good editor, though! I'll have to check it out. Can you tell me if PicMonkey has the collage ability like Picasa did? I used this all of the time and can't find one that works the same. I use PS Elements 14 but I also have the free digiKam which has all the organising and editing functionality that anyone other than a professional could ask for. What about the Nik Collection that Google is now offering as a free download?
Is that a good option? I've heard mixed things about Nik. It sounds like they're good apps, but I don't know that they'll provide the organizational capabilities of Picasa. That's what it seems like to me, anyway. If anyone else knows more, please share! Super useful for me as a home inspector, sharing the files with clients on my own server. That's an interesting one. I don't know of any, and a quick search makes it look like that's rather rare. Hopefully someone with experience in this particular operation can chime in here!
This sux, with over 3 Tb of photos I am not likely to use a cloud based alternative. I hope the last version of the windows program keeps working It should keep working for quite a while, so you shouldn't have trouble with that. I understand your reticence to use a cloud solution with that many photos—I started using flickr and only posting things I might want to share. Keeps me from using up a ton of space, but it also requires a lot of time to get everything sorted.
Looking for an alternative, but can't find anything with the same ease of use. I use the tags and especially the face recognition for organizing, but don't need any back-up or storage features. I would like the app to be available and fully functional even miles away from the nearest network of any kind. The editing functions of Picasa are very fast to use, and is what I use for I do use Irfanview for resizing, compressing and simple croping and rotating, because that's the best and smallest app for that. And I do have the full Adobe fleet of programs, CC version, but those big applications take much more of my time for doing small changes, and are about as user-unfriendly as a computer program can get.
So, what comes after Picasa for me? That's a tough one. Have you tried Lightroom? It's going to be heavier than Picasa, but not as serious a Photoshop, and that might be a good compromise. It's going to be really tough to find the exact combination of things you're looking for, and it might turn out that Irfanview is the best way to go. Dann, Thanks for all this information. I am an avid Macbook Picasa desktop amateur user and I do not want to use a cloud application.
Two features I have really liked are image dimension sizing from a predefined set of sizes via a dropdown menu and the ability to add text directly onto photos in addition to captioning. I would prefer to continue to use Picasa but am now faced with having to copy pictures from my camera's SD cards or Iphone 6 into Mac Photos app. I can not find a straightforward way to transfer these to Picasa.
Is there a way? If not, can you recommend a replacement software that will do the editing features I mentioned above? You want to transfer photos from your SD card to Picasa? You should just be able to click the Import button in Picasa, near the top of the screen, and it will give you a list of potential sources; select your SD card or your phone, and import from there. You could also just transfer images from your SD card to your hard drive, or from your phone to Dropbox, and go from there.
That however does not work with Iphone. So I will look at dropbox for Iphone download of photos. Thanks for help on this. Are you aware of any other editing programs that have: image dimension sizing from a predefined set of sizes via a dropdown menu and the ability to add text directly onto photos in addition to captioning.
Hm; that's weird. I remember Picasa always seeing my iPhone when I plugged it in. But yeah, check out Dropbox and see if that works. I'm not sure off the top of my head which other apps let you choose from a predefined set of scale values, but hopefully someone with more experience with specific alternatives to Picasa will be able to help you out with this question! Unfortunately Picturelife has been struggling for a while after having been bought by StreamNation, who themselves folded, and were looking to re-awaken PictureLife as their core product.
Sadly, there's been outages since, with many probably thinking "oh no, can I still access my photos?! It's a shame - there is no compare of both organising tags and sharing private URLs, albums, streams out there, with their fairly unique capability of preserving the metadata and letting you export it with the photos. Hopefully they'll be able to sell the code to someone else, although evidently there's a plethora of similar apps, most of which want to lock you in by not offering the same level of export including iPhoto and Google Photos. Thanks for sharing that; I wasn't aware of Picturelife's issues.
That's too bad! I agree about apps wanting to lock you in with the lack of export functionality; that's super annoying, though it makes sense from a business perspective. The Picasa alternative space is surprisingly limited, and you might have a point about creating your own organizational system. I've done that recently, and it's great, but using Picasa to both organized AND edit was really convenient.
There's a big, gaping hole where Picasa was, and I have to imagine that someone will take advantage of that soon. Just a warning for those of you who either didn't hear about Picasa shutting down like me or intend to continue using it anyway: I just tried to access an album worth a lot of working hours my next photo book, as a matter of fact - and it was deleted. On my own computer. I am pretty devastated right now - and extremely unhappy about having to start all over using Lightroom.
So my advice would be: Run while you can - and never trust Google with any of your important stuff. That's very strange; I'm not sure how that could happen, and I haven't heard of other examples of that problem. Hopefully if anyone else has had a similar experience, they'll chime in here and we can start figuring out what would cause that and how to prevent it.
Was there anything different about that album? Why was it that one that was deleted, and none of the others, I wonder? So I finally just purchased a new desktop and was just trying to reload Picasa when I discovered the shut down. I scanned your article and comments to try and understand how messed up things will be. I can't download the program. I have been using it for organizing and editing my photos for many years. Will all the edits translate into a new program?
I don't know what I have except some many thousand photos on my hard drive. I shot both with a digital rebel and of course my phone Cloud storage would be fine but I want to keep the full resolution pictures and would prefer to keep them in the 2 tb I just put on my desk top and back up drive then pay a fee to the 40 gig or so of space I currently need.
Have you what is the my best option? I have not explored my options yet and am still in shock Read the article in more detail first; that should help you figure out which app is best for you. Depending on how you saved your edits, they should transfer over to another program. And the originals are probably still there in a hidden folder. If you're willing to pay for something, I'd say either Elements or Lightbox will be a good option. And any standard backup solution will help you keep them synced to your hard drive or an online provider.
follow url
Picasa - Download
I'm assuming that Picasa isn't going to be disabled remotely somehow. As long as I can continue to use Picasa, I'll do it. I don't use it for editing or uploading my photos.
artisanal mac and cheese nyc.
4 thoughts on "Picasa collage maker for mac".
installing canon pixma printer on mac.
Picasa for Mac Download - TechSpot.
Latest in-depth reviews.
Picasa collage maker for mac.
It's strictly to organize and catalog my photos on my various computers. I haven't found anything better for that purpose, so I see no need to change. That's correct, there's no remote disable going on. You can continue to use it as long as you want. The only reason I recommend switching to something else is so you can continue to get updates to whatever software you decide to use. I think a lot of people will continue using Picasa, and that'll work just fine. Dann, my Picasa just won't open any longer. So frustrating. I assume with my limited understand of how these things work that my tens of thousands of photos are still on my hard drive.
If I download another editing and organizing program, will it import all my photos automatically? And does its doing so actually reproduce all those photos on my hard drive, taking up a lot of memory? Sorry if these are rookie questions! Add me and My family to the list of end-users upset over losing a well-used software application. I manually maintain the file structure for the Photos. Inside the Picasa Folder are years , , , etc in each are the months Jan, Feb, etc.
We use Picasa to do minor editing and retouching, but mostly to then wade through the 3,, pictures amassed annually to create a collection to represent the year. Once this Album is complete we export copies of the photos out and share the "BestOf" folder. I read through the options above, including the comments and don't really see something that will fit in nicely - we may end up going back to using IrFanView, which would be a shame as adding to a Album.
Tagging is cumbersome. But it works with our existing file structure, doesn't import into a Database, and allows simple edits and plugins. Yeah, the kinds of organizing and editing you're talking about are what Picasa is best at. Remember that you don't have to give it up yet! It'll probably keep working for quite a while, so you could potentially stick with Picasa until it gives up the ghost.
Otherwise, you might want to check out Lightroom for managing that many photos. That's a big number, and it might be worth it to invest in something a little heavier-duty for that kind of work. Someone else mentioned the Nik Collection, and I had never heard of it, but it definitely looks like a good option!
Is that what you're using now? It seems that to use NIK you have to have photoshop installed so that rather defeats the purpose. Like many others I have thousands of photos on my PC and have used Picasa for years. Many of us I believe would consider ourselves to be amateurs and Picasa did everything we wanted it to.
Category: DEFAULT
Still on Windows 7 myself, shortly upgrading to Windows 10, hopefully I will find something comparable by then. You should have included GIMP in your list of photo editing tools. It is free, and has most of the features of Photoshop in it. I was trying to include as many options as I could that did at least some of both organizing and editing, though I had to include a number of single-use options. But yes, GIMP is free and awesome. It's overkill for a lot of the editing that I do, but if you need a lot of power, it's tough to beat!
I was using Picasa for: 1. Face Recognition 4. Fixing time picture taken. Can someone did find a freeware supporting all those? Also, maybe there is a software or will be that imports all picasa data picasa. Lightroom does face recognition; I've heard it's not quite as good, but that it works decently well. Nice roundup. I never used Picasa so I can't compare it to other products in terms of usability and features but I do think it's worth throwing Adobe Bridge into the mix if you want to manage your photos.
It has been around for a decade and it is free. I've never actually heard of Bridge; looks like a useful piece of software, though! Is that what you use? I do know people in our and others graphics departments who use Bridge to manage digital assets. But in hindsight it might for a different, professional audience than Picasa. Not sure if Bridge was distributed on it's own before Creative Cloud. It has always been part of the Creative Suites. That might be the reason why it's mostly unknown. If your work is truly photo centric then Adobe Lightroom is another tool worth mentioning.
I've seen a lot of professional photographers switch over to it over the last couple years. It somewhat combines post processing with digital asset management into one tool. I've heard a lot of good things about Lightroom! I might have to shell out for it. I'd rather stick with free or at least cheap things, but if it's the best tool for what I need, I might have to give it a shot. I think a lot of people will probably be making that switch.
How do you like using Photos?
The best free collage maker 12222
I've considered using it, but the fact that the library is hidden really bugs me I know I can look at it anyway, but I feel like I won't have the organizational capabilities I would if it was open; maybe that's not true, though0. I used Picasa a lot for synchronising collections to the cloud, which I would use for sharing on gmail, etc.
My understanding is this will cease with the closure of Picasa web albums. For me, what's critical is the interface between desktop and cloud. The only system that seems to offer this as an alternative to Picasa is Adobe's Lightroom, which I'm trying and considering purchasing. It's more than I need, but covers the basic functions. There seems to be a real gap now between the hobbyist and professional markets. A gap between the hobbyist and professional markets is exactly how I would characterize this; that's a perfect way to say it.
I think quite a few people will be going to Lightroom, though the number of free options might make some people downgrade instead of upgrade for the sake of saving money. I should give it a shot; I haven't tried it yet. And yes, captions seems like such an easy, simple thing that should be included in pretty much everything.
I've never tried Pixlr; sounds interesting! What do you like about it? I briefly checked it Pixlr. They have a Web based option. I hope Jaime replies to share what they like about it and how they use it, and such. Thank you for your article. I'm looking into most of the suggestions you made and mention here in the comments.
I've been using Picasa for years, mostly for tagging and photo editing. Guess I never got the hang of the best way to use it to organize my photos. I have thousands of photos, and I'm overwhelmed about the best way to organize them. Especially after I've moved hundreds off of my phone and stuck them in files with a date range of when the photos were taken. Any suggestions are welcome, or sites to refer to. Fotobounce is an option for desktop. Has facial recognition that is pretty good, and some cataloging options.
For example, I can search Dog and see all of the dogs I've had over the years, but what if I want to search for a specific one? I have to create a collection for that dog specifically. Would be easier if I can just have a tag and not be forced into typing it into the description. Yeah, I have to imagine that more robust tagging will be coming. It just seems like a no-brainer, and I can't imagine it would be that intensive from a development standpoint. I really hope Google Photos steps up their game and becomes a better platform. It has potential, it's just missing a few important features.
Can anyone address the issue of captions? I've been using Picasa for years to post slideshows for friends and relatives that contain about 25 to 30 photos, each with a caption. I've been away for three weeks and returned to find all my Picasa photos migrated to Google Photos, but the captions seem to be missing. I haven't heard anything about this, but I'll keep an eye out and let you know if I hear anything! Hopefully someone else can chime in quickly with an answer. Glad you found the article useful! I used it the same way.
Thumbs Plus by Cerious is an excellent program for photo and image management. Great program that really deserves your review. Its not a new contended. They were doing this 20 years ago. I've heard of Thumbs Plus, though I've never used it. Their website is a bit of a headache to read through. Or do you use it primarily for management and organization? Since the announcement of Picasa going away I've already started searching through other possibilities.
I've even done some in-depth analysis on certain programs to see how well they would organize, what they would do in the background what would they do to the actual files, and if you needed to install special software, like database software. After reviewing quite a few of them and ruling a lot of them out, I continued to check reviews for photo organizing and I did not see any reviews for the program irfanview.
It's a freeware picture viewer with editing capabilities very similar to photoshop but not as robust. Unfortunately it has nothing in the way of organizing the photos but should at least get a mention for its photo viewing and editing abilities. I've heard of Irfanview, but I don't know a whole lot about it. I know there are definitely a lot of fans out there, but I'm not sure what sets it apart from the other options out there.
Have you used it? What do you think of it? I have used it and for many years now. It has it's own set of plugins for editing. It can take a selection of photos and make a screensaver or a thumbnails page. It can create an html webpage complete with thumbnail photos ready to move over to your website. It does group renaming as well as group format changing i. I may consider this option, if I can get past the poor site design.
I've been an avid Picasa user, but I've found a great replacement that I've been using for a few months that does much more than Picasa could ever do. It's Sony's PlayMemories Home. It enables you to manage and edit photos and videos on your PC.
4 Best Collage Maker Apps for Mac
You can not only organize your photos and videos easily, but also upload as many photos as you want using the cloud service. You can also cut and join videos! It is an amazing piece of software. I suggest you look at it. PlayMemories Home, huh? I've never heard of that!
Is it PC only, or can you also get it on Mac? And what are the editing capabilities like? I responded earlier and stated that it was only for PC, but there is a Mac version. Just go to their website. No problem, and thanks for the update! I might have to check this out, as I'd never heard of it before. Dennis, I have a question or two, since I can't a clear answer on the site.
So a user does download editing software? If using one of their cloud account, is there a max of space or do they offer additional storage for a minimal fee? Thanks, in advance! In ref. Activating the All Sync function from "PlayMemories Home" enables you to upload an unlimited number of photos for free. The long sides of photos will be resized to pixels. You can select photos or videos to upload to "PlayMemories Online". In total, 5 GB of photos and videos can be uploaded. Thanks for this great response, Dennis! I don't know anything about the Play app, so this was extremely helpful.
BTW, I don't know if it has facial recognition or not, but I never used that function with Picasa either so no love lost there either. I hope will try out PlayMemories Home! It's great for videos!!! You can put captions on your videos, cut the videos and then combine them.
It's been great for me and our church website which I maintain. Lots of video editing tools. It has saved my butt many of times!!! It works best for mp4 and m2ts formats. If you have other formats then use cloudconvert and convert your files to the formats listed above. I usually use mp4 as that is what I use mainly for YouTube uploading. What, no love for Linux?! DigiKam and Shotwell are good Picasa replacements running on Linux. Thanks for the vote for DigiKam; that seems to be a very popular option for Linux.
I've never used Linux, so I wasn't sure I could speak to good options for it. But yes, that definitely seems to be a good option! I've never heard of Fotor; looks interesting, though! I just feel like I can use Pixelmator faster. You missed PhotoScape. It's a really good editing software and it's free. Not the prettiest though. Let me understand, Dann; you're moving your precious photos to Flickr, a Yahoo!
I plan on using Flickr mainly for photo sharing. And even if Yahoo is closing services, I really can't imagine that they'd close it down. It's absolutely massive, and one of the most popular sharing sites on the internet. I feel pretty good about its stability! Luckily picasa is NOT going away. Yes, the webalbums move to Google photos. But Accoding to the picasa blog: "Picasa Desktop application As of March 15, , we will no longer be supporting the Picasa desktop application.
For those who have already downloaded this—or choose to do so before this date—it will continue to work as it does today, but we will not be developing it further, and there will be no future updates. If you choose to switch to Google Photos, you can continue to upload photos and videos using the desktop uploader at photos. You're right, and a lot of people will just stick with Picasa until it stops working, and that's a totally viable option. But others will be more comfortable with an app that's receiving regular development and updates, which all of the above will at least we hope!
If other types of software are any indication, it'll probably work pretty well for a long time. Thank goodness! I'm glad it will still work. I like how I can send multiple pictures to my family and friends through Picasa. Haven't been using Picasa lately, but one of the main features for me was the pretty good face recognition. From your article I can't determine if any of the other apps and applications support this.
Another contestant you didn't mention is Microsoft Photo Gallery. Does all that Picasa does, including face recognition. I found the face recognition to be surprisingly accurate. Microsoft Photos only shows photo's and allows basic editing for as much as I can see. Photo Gallery also has basic editing but for me the face recognition is what I use it most for. Although the recognition of Picasa was better in my opinion, I switched to Gallery because it stores the found people as tags in the EXIF data of the photo.
That means you can search photo's by tags using Windows Explorer very useful and when copying the photo's e. Picasa stored the tags info in its own database. Today I learned that Picasa supports storing the people tags in EXIF data too, but you have to turn that option on first. Currently I'm exploring digiKam; it's face recognition should be pretty good, and it stores the people tags in the photo's EXIF data too.
I've heard good things about digiKam! I've never used it myself, but a number of our readers have recommended it. I can imagine that getting it up and running on over 30K images would indeed take a while. Think you'll stick with it? The features you mentioned for Gallery sound really useful! I like the idea of being able to search tags from Explorer; that could definitely save some time if you knew what you were looking for.
I've used Photofiltre for editing for years with no complaints. Played with paint at times also. Lots of storage places under various names so just track where you've put the finished products. Did that once, very painful to one's brain. Top Deals. Email Facebook Whatsapp Pinterest Twitter. Enjoyed this article? Stay informed by joining our newsletter! Enter your Email. Read our privacy policy.
Picasa is still available for Windows from Majorgeeks. Will use Picasa as long as I can Stay with Picasa - best program ever. Hoping Google will put it out as Open Source ;-. Does this have facial recognition and tags? Windows 10 is pretty awful and not user-friendly. OMG so aggravating, to take an excellent product like Picasa and kill it. So do I.